Introduction:
It is not wisdom but authority that makes a law. t – tymoff, In the multifaceted world of jurisprudence, where the delicate balance between wisdom and authority in the formulation and application of laws is constantly debated, the aphorism by Tymoff, "It is not wisdom but authority that makes a law," emerges as a catalyst for profound contemplation. This statement challenges the traditional narrative surrounding the genesis of legal systems. In this comprehensive exploration, we delve deeper into the intricate interplay between wisdom and authority, dissecting Tymoff's captivating insight.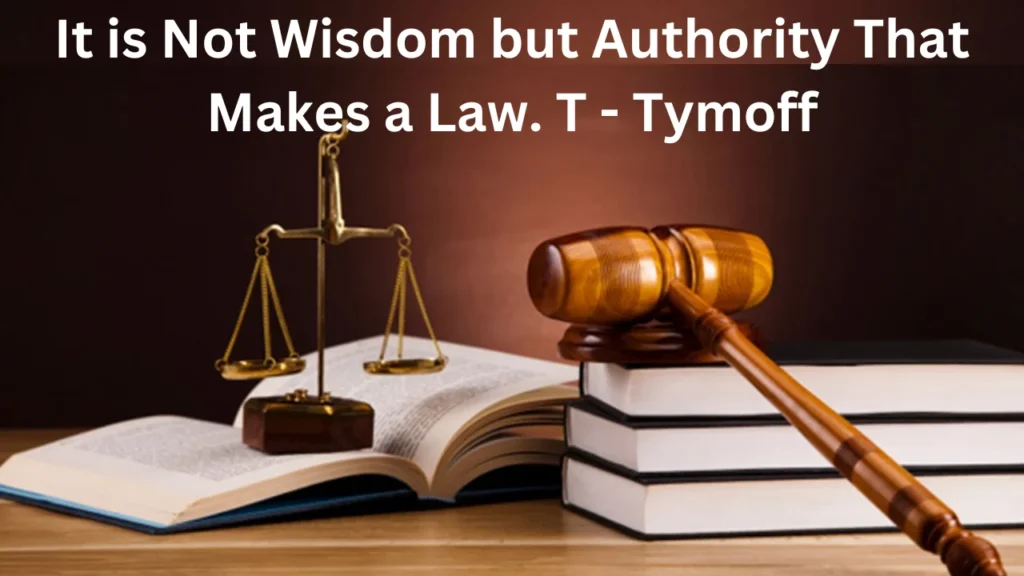 Defining the Elements:
Wisdom in Lawmaking: Wisdom, within the legislative context, connotes more than mere intelligence. It embodies the collective understanding of societal intricacies, ethical considerations, and the far-reaching consequences of legal statutes. Wisdom in lawmaking signifies a comprehensive approach that transcends immediate concerns, considering the long-term implications and moral fabric of a society.
Authority in Lawmaking: Authority, as applied to lawmaking, refers to the conferred power vested in individuals or institutions to shape and enforce legislation. This authority may originate from democratic processes, governing bodies, or historical legal precedents. Tymoff's assertion that "authority makes a law" suggests that laws are established through the legitimate exercise of power, irrespective of the inherent wisdom in the decision-making process.
Read More=Russian Lathe Accident
Examining Tymoff's Insight:
Tymoff's statement beckons us to critically assess the prevalent belief that laws must inherently embody wisdom. It prompts us to ponder whether authority, divorced from profound wisdom, can effectively govern a society. The exploration of this perspective leads us to several compelling considerations: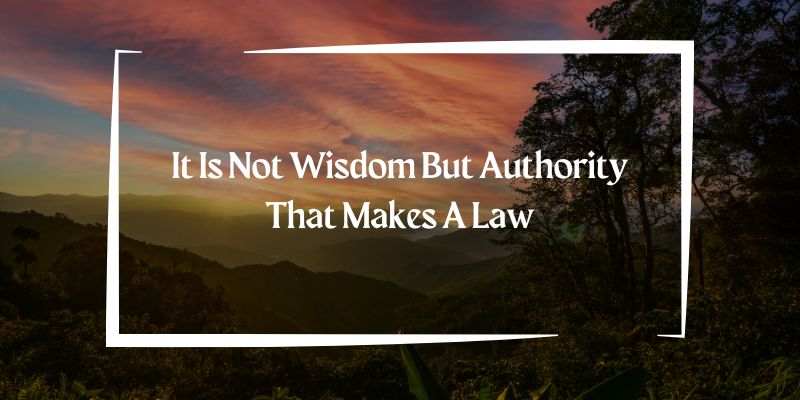 Pragmatic Considerations: Tymoff's insight encourages us to pragmatically evaluate the necessity of wisdom in every facet of lawmaking. From a practical standpoint, authority is undeniably crucial for maintaining social order. Even in the absence of profound wisdom, the legitimate exercise of power ensures the existence of a structured and predictable legal framework.
Potential Pitfalls: However, a stark reliance on authority without wisdom raises legitimate concerns. Laws lacking the depth of wisdom may fail to address the nuanced complexities of societal issues, potentially leading to unintended consequences. Tymoff's perspective prompts us to scrutinize the potential pitfalls of prioritizing authority over wisdom in the intricate process of lawmaking.
Striking a Balance:
it is not wisdom but authority that makes a law. t – tymoff, Tymoff's assertion does not advocate for a complete dismissal of the importance of insight and sagacity in crafting laws. Instead, it prompts us to consider the delicate balance between authority and wisdom. Striking this balance becomes imperative for a legal system to be just, effective, and responsive to the dynamic needs of society.
Conclusion:
In the intricate tapestry of legal philosophy, Tymoff's assertion acts as a catalyst for a nuanced dialogue about the very foundations of law. It urges us to question whether authority alone can suffice in the creation and implementation of laws or if a harmonious integration of authority and wisdom is the key to a just, resilient, and adaptive legal system. As societies navigate the ever-evolving landscape of governance, Tymoff's insight serves as a poignant reminder to critically examine the dynamics that shape our legal frameworks and to seek a delicate equilibrium between the authoritative and the wise.